~ A Statement of Elegance ~ A Sense of Quality ~ A Moment in History ~
Our luxurious overnight accommodations are evidence of our commitment to the superior hospitality that began in 1714. We offer three one-bedroom suites; The Franklin, The Washington and The Carlisle and one single room, The William Penn.
All feature guest-pampering amenities including:
Museum-Quality Period Furnishings
Elegant Hand-Crafted Cabinetry Reproductions
Luxurious Private Shower Finished in Carrara Marble
Entertainment Center in Each Bedroom
Wireless Internet Access
Continental breakfast served to Your Room Every Morning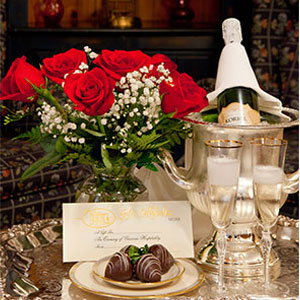 Evening of Gracious Hospitality
The ultimate gift for two… an enchanted evening of pampered luxury at the William Penn Inn!
It begins with an overnight stay Tuesday through Friday in one of our elegantly appointed guest suites where complimentary Champagne and a half-dozen roses arranged in a gift vase are waiting. A one hundred dollar gift card is presented for your dining pleasure in one of our award-winning restaurants, and after a good night's rest, you wake to continental breakfast for two.
$250