Dining
Hours of Operation
We will be closed on Christmas Day.
Lunch

Monday –  CLOSED
Tuesday – Saturday: 11:30 am – 2 pm

Dinner

Monday –  CLOSED
Tuesday – Thursday: 5 pm –  8 pm
Friday: 5 pm – 9 pm
Saturday: 4:30 pm – 9 pm
Sunday: 3 pm – 7:45 pm

Brunch

Sunday: 10 am – Last Reservation 2 pm

NEW BRUNCH HOURS – EFFECTIVE 10/1
9:30 am – Last Reservation 1:30 pm
Thanksgiving 2023

Gourmet Dinner Buffet
11 am – 7 pm

$62 per person
Banquet Entrance – Sumneytown Pike Side

Ala Carte Menu
Monet Dining Room – 11 am – 7:30 pm
Commonwealth Club – 11:30 am – 7:30 pm

Restaurant Entrance – Route 202 Side

BOTH Menu's will be posted at a later date.
Important Information
We do not accept pre-paid Visa, American Express, Mastercard, or Discover Gift Cards.
We can only accommodate a maximum of 4 separate checks per table.
Cancellation for Policy for Parties of 8 or more:
No-shows or cancellations less than 7 days in advance will be subject to a cancellation fee of $20 per person.
If your reservation is on a holiday no-shows or cancellations 14 days in advance will be subject to a cancellation fee of $30 per person.
Any cancellations before that time period will not be subject to this charge.
Featuring three separate, distinct areas, dining at the William Penn Inn has been a tradition for over 300 years. Beautifully appointed rooms, cordial and knowledgeable servers, and exquisite Menu Selections combine to offer you a most memorable experience. Whether a romantic dinner, a family celebration, or "just because."  We indeed are the "Inn"-place to dine.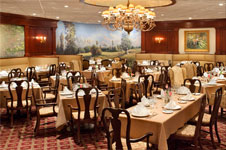 The Monet dining room is beautifully appointed with replicas of Monet paintings and murals in an elegant, open setting featuring a Prix Fixe complete three-course dinner. Continental/American cuisine offers a well-balanced variety of appetizers, entrées, and tempting desserts. Dinner Additions and seasonal "Inn"-made desserts are offered 6 days a week.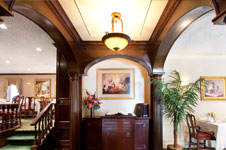 The prestigious Commonwealth Club, located on the second floor, is our premiere dining area offering quiet, intimate fine dining and semi-private areas for parties from four to forty guests. European cuisine, impeccable service, and attention to detail ensure an incomparable dining experience.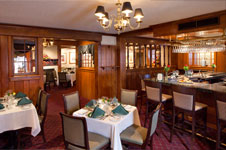 Currently only Available on Select Friday and Saturday Evenings:  Penn's Tavern is a return to relaxed, country dining in the oldest continuously operated tavern in Pennsylvania.